It's been a fun year in film, and while I haven't seen everything I would have liked to see just yet, I figured it's time to do my top picks for the year. The films below are my top ten (in order of when I viewed them), whether or not the critics agree with me. This is the stuff I liked or found important for one reason or another.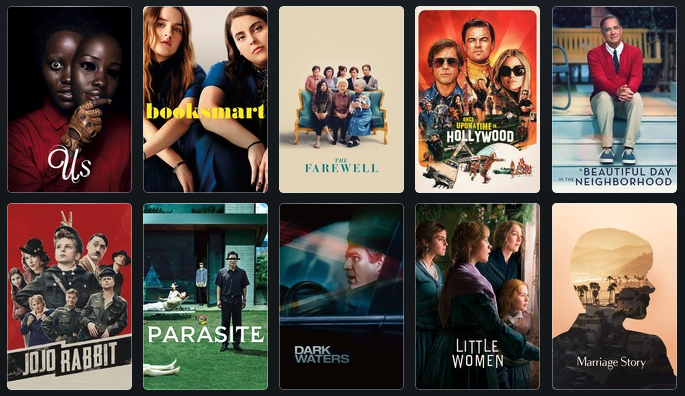 Us
Saw this one twice, and it's about as jumpy as I'll go. I still have a lot of questions, but the film itself is excellent, unique, and multi-layered. Please watch it. Then, let's talk about it.
Booksmart
It makes the list even though the pop-progressive, self-deprecating, upper-middle-class, slacktavist jargon might make you want to go punch a gen-z kid in the face. What can I say? I used to teach junior high, and I liked it.
The Farewell
Awkwafina proved herself and then some in this gem of a film, and Wang does a masterful job exploring a cultural clash as it relates to honesty, loss, and grief.
Once Upon a Time in Hollywood
Tarantino being Tarantino. But really, really good Tarantino. My favorite since Pulp Fiction.
It's a Beautiful Day in the Neighborhood
A cynical journalist takes on writing about Fred Rogers. It'll warm your cold, cold heart. And if Hanks doesn't win Best Supporting Actor…
JoJo Rabbit
This is my top pick for the year. An anti-hate satire that strikes a brilliant balance of humor and gravitas. It was a bold endeavor that I think works, even though the critics were divided.
Parasite
This social satire should probably win Best Picture and/or Best Original Screenplay. It's a near-perfect film. Don't read about it before you see it. Just watch. Trust me. Tasty.
Dark Waters
Ruffalo gives the Catholic church a break this year and goes after DuPont in this legal drama that shines a light on the sickness, pollution, and destruction caused by a corrupt chemical company. Are you still cooking with nonstick pans?
Little Women
I've never really loved Little Women, but I am a huge Greta fan. This film says more about her talent and versatility as a director than it does anything else. She certainly brought the story and characters to life in a new way.
Marriage Story
Wow. What superb acting and storytelling. I cried, and I don't cry. Baumbach knocked this one out of the park, and it still hurts days later.
Honorable Mentions
Judy
Knives Out
Bombshell
Richard Jewell
Just Mercy
But Please Never Again
What other films make your 2019 list?